Welcome to our homepage!
Pictures of the house taken January 6th 2007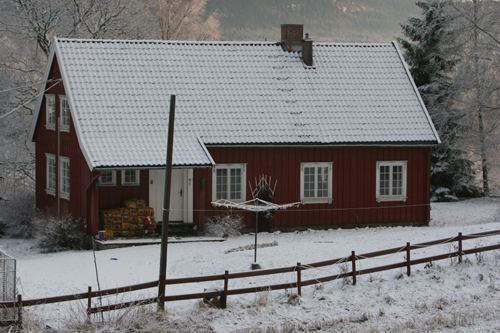 January 6th 2007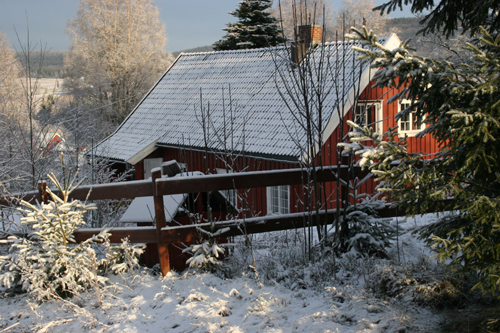 Summer at Rotnes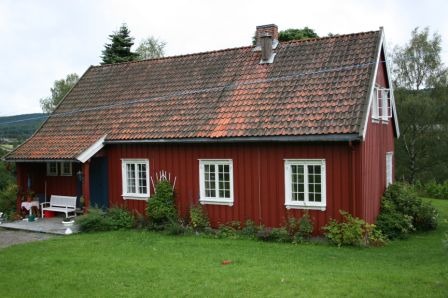 Today we live in a small red wooden house at Rotnes in Nittedal. We moved here in November of 2004, after 10 years at Vestli. Here we live with two Belgian shepherds, Groenendael. Our dogs are called Ask (born: 2002) and Atlas (born: 2007). There also lives a "barn and forestmixed" cat, called Fenris (born: 2005). We also have a small parakeet with different names based on our moods, mostly "beast", "noisemaker", "catfood" or "Pippen Petter" (born: unknown ca 2002/2003).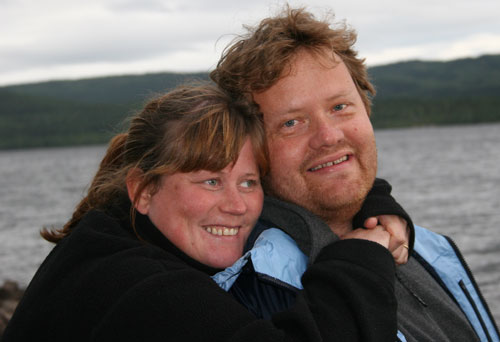 A little about us:
Ronny Erlend Ivarsen, born 27.07.1966 in Bergen
Ronny grew up on Fanahammeren, Bergen in a house near the sea. He lived here with his father Erling Ivarsen and his mother Wenche Rosalind Ivarsen.
School and education:
Ronny attended school at Kirkevoll in Fana. When he turned 15 he moved with his family to Alexandria, Egypt, as Ronny's father was to work there for 4 years. Ronny attended the Schutz Americans School there. After this the family moved back to Bergen, while Ronny spent 1 1/2 years USA. Later he studied at NKI in Bergen, and this lead him to Oslo.
Evy Anita Dybing Ivarsen nee Andersen, born 29.11.1966
Evy was born and grew up in Oslo, (first at Godlia, a few years in Nesbyen in Hallingdal and most of her childhood years at Vestli, north in Oslo). Here she lived with her father Jack Arild Andersen, her mother Audhild Dybing and her two younger sisters Anne-Grethe Dybing Bergh and Wenche Irene Andersen.
School and education:
Evy attended Vestli elementary school, Tokerud junior high school, 1982 and Linderud High School (graduated 1985). In the fall of 1985 she got her drivers license and a job in Postverket, as it was called at the time. It was to be a temporary job. Evy worked with mail delivery until 1987, and worked at the desk until 1991. After at break from Posten Norge As, working at S/E/B ( Skandinaviska Enskilda Banken) for about 2 years as a financial advisor/loan advisor Evy returned to Posten Norge. Today she works as a financial advisor at Posten Norge As, at Majorstuen Postkontor.
Daniel Erling Rodrigo Ivarsen born: 23.12.2001
Daniel is from Chile, and we could finally bring him home on July 19th 2007. August 16th 2007 we landed on Norwegian soil. In the fall of 2008 Daniel will start in Rotnes elementary school. We're looking forward to his first day of school with mixed feelings. Our little boy is already starting school... ;)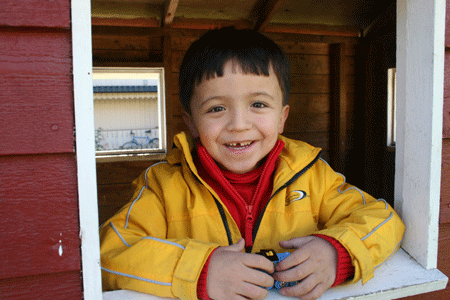 Generally:
Ronny and Evy met just before easter 1991 - café Fiasko. :-) After 5 years we got married on the 22nd and June,1996. This happened in Strømmen Kirke followed by a party at Røykås Grendehus.
Dogs:
When Evy and Ronny met, Evy already had her first Groenendael. Both grew up with dogs. Ronny with Fox, a Border Collie. Evy with Pelle - Norsk Buhund - black with white paws, Mira - a backyard mix , as was Kim. The Groenendael Dino was picked up by Evy at Løten in Hedemark December 7th 1988. At that time Nordbygda`s Dino was 7 weeks old. Dino was a powerful Belgian and somewhat skeptical to all that had to do with people. So letting Ronny into the 2 room apartment Evy had at Bøler in Oslo, was not without growling and arguing. At the age and 4 Dino developed epilepsy. It was of the serious type, and not very pleasant. By taking medication and avoiding stress we could minimize the number of seizures. Dino got to be 13 years and 7 months.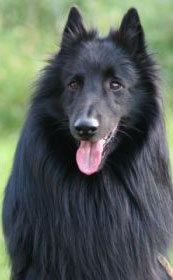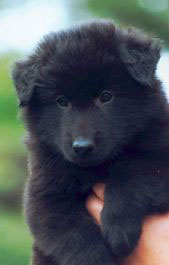 Because Dino had some special needs, Evy got interested in dogs and learning. She took a one year dog trainer course through Groruddalen Dyreklinkk taught by Torbjørn Owren and Per-Jostein Matre. Here she gathered knowledge to be used in different areas, both with man and animals. During the last few years she has been an assistant instructor in Stovner Hundeklubb and a member of the Obedience Committee. After Dino passed away in May 2002, Evy couldn't live without a dog. We traveled to Bergen and Tertnes to look at a puppy in August. The second weekend of September we picked up our Belgian Shepherd no. 2. He came from Kennel Nadjarah. We was from a litter of 8, 5 female and 3 male. The name on the certificate is Nadjarah's Aiko, but we call him Ask (after the wolf at Langedrag, Ask & Embla). Ask was transported in a cardboard box in a Volvo 440, over the mountain from Bergen to Oslo. There were countless stops for cuddling and pee-breaks. For the 8-week old fur ball, it was an incredibly long journey, but an incredible amount of joy afterwards. he finally ate the cardboard box. You can see Ask to the right.
On the 28th of April 2007 we picked up our 3 Belgian. He was 8 weeks old at the time he was picked up, and is called Atlas. His pedigree is not ready yet, but his official name will be something with "Black Demon". He comes from Stavanger and his breeders are Kristin and Rune Monsen, who also run a web shop. It was as long a first journey for Atlas as it was for Ask, if not longer, but he slept all of the 600 km home. We had a twin-cage ready in the car, so everything was ready. Evy has made separate notes under Atlas, about his first days with us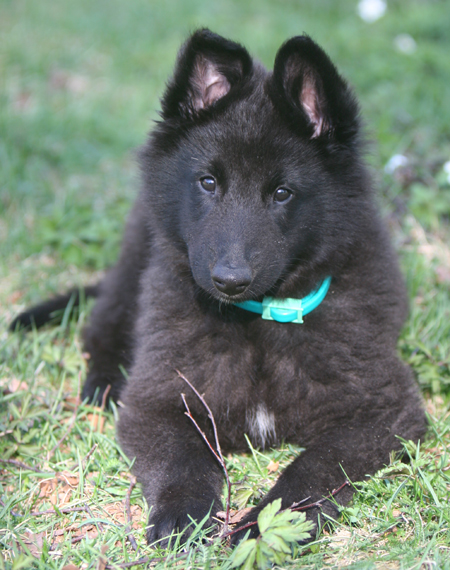 Ronny works in a company called Andhøy Data AS. They are located at Lilleaker. Ronny works as IT-manager, and has worked there since February 1994. www.andhoydata.no
Evy works as a financial advisor in Posten Norge AS, working with Postbankens products. Evys office is at Majorstuen Postkontor.
www.posten.no and www.postbanken.no
Hobbies: Both like training the dogs. Mostly we work with tracking, obedience, socializing, and walking in forests. For our 10 year wedding anniversary in June 2006, we invested in a new camera, and the interest in the hunt for the "perfect picture" is great. The pictures often contain some kind of animal. We had the opportunity to photograph wolves twice in the year 2006. First opportunity was with the "wild wolves" at Langedrag in June, and again in September in Kolmården in Sweden. At the last site we also got the opportunity to pet the wolves. Look at "Our Experiences"!
Both are curious about counties and cultures. We both like to travel and experience new things, both domestic and abroad.
Ronny is interested in things like: computers (of course), photography, flying, Wine (we're filling up our own wine cellar), Science Fiction. (Ronny has more than 500 science fiction books in cellars and lofts in Rotnes and in Bergen). Ronny also likes long walks with the dogs, and especially looking for mushrooms in the fall.
Evy's interests include: dogs, dog training, painting, wine, travel, and learning how to make a homepage :-)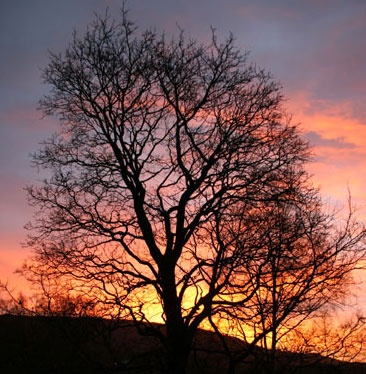 Sunrise at Rotnes 2006